BARE BONES 3/3
By
Dani Clauson
Part 3 of a 3 part project, the combination of works conceptualized for With.In's digital art space.

a fragile illusion
May 2018
[ceramics. wood. tracing paper. charcoal. walking in circles.]
---
BARE BONES 2/3
By
Dani Clauson
Part 2 of a 3 part project, the combination of works conceptualized for With.In's digital art space.

revealed not received
July 2018
[wood. fabric. clay & honey. video projection. audio of layered YouTube tutorials on building walls.]
---
BARE BONES 1/3
By
Dani Clauson
Part 1 of a 3 part project, the combination of works conceptualized for With.In's digital art space.

Self Storage
August 2018
[wood diagram of childhood home. plastic. wet porcelain. Mothers journal. Video projection of performance.]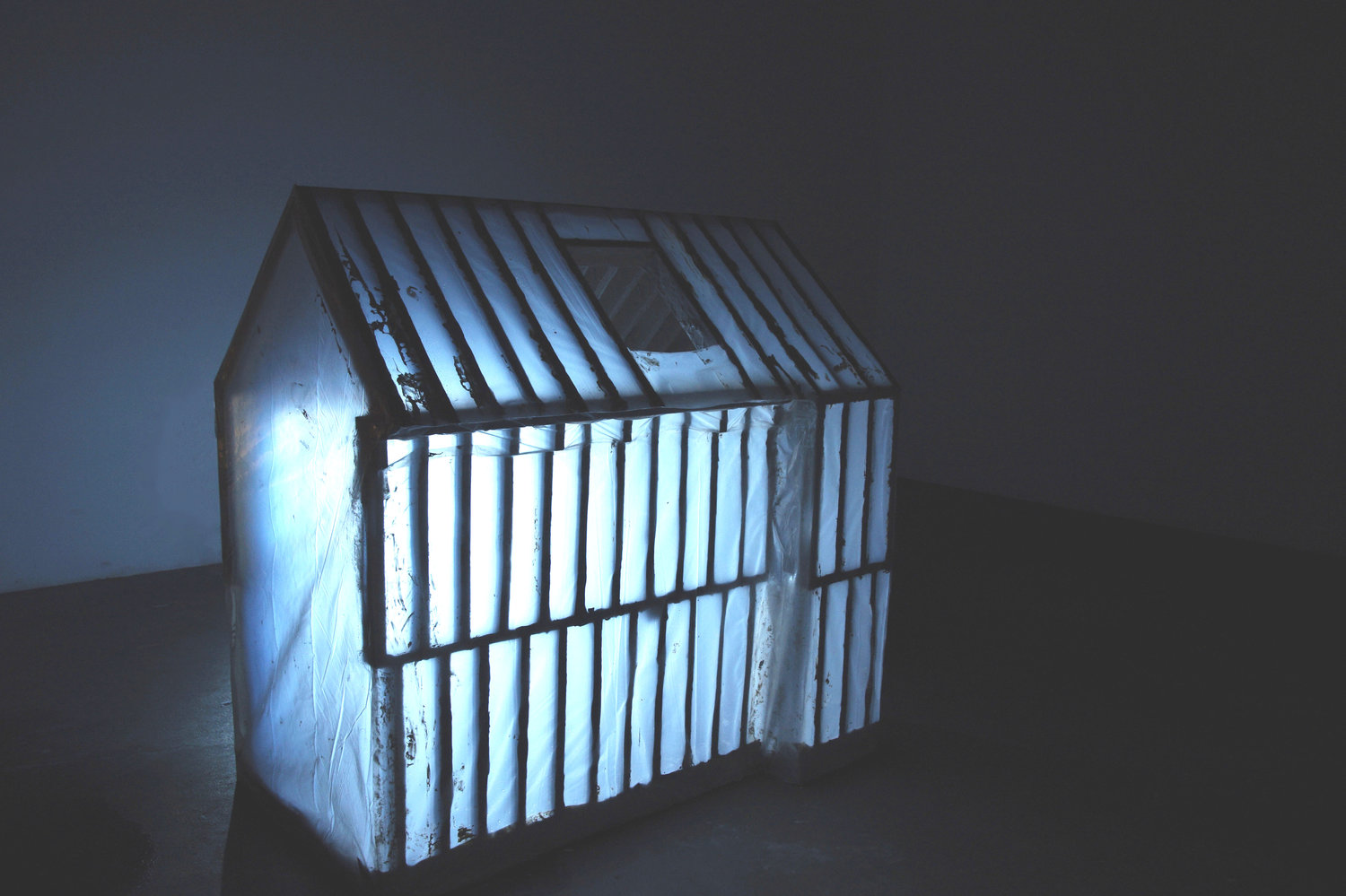 "If I were to write to you
To tell you something
Or create some visual you can place hands upon
Some textural tactile technique
How naked should I become?
[do you fetishize my flesh?]
These domestic recesses of my mind,
Where the boundaries of body, emptiness of self
Reveal themselves behind the curtain,
[I seem obsessed with the perforated line that seems to divide
But suggests to cut open. To be so vulnerable yet suggestive of barriers.]
Do you remember what they told you, about becoming a 'woman'?
Can't you see, I'm not one?
(don't)(touch me)
I'll keep these restless hands digging through clay
To find an empty state
To find acceptance / rejection
Of objectification / subjectification
To find my voice
To find my body."
With its own sense of body, touch and memory, as well as its transformative nature from ephemeral to permanent, ceramics holds a metaphor of trauma and its lasting effects. The ceramic forms I create are reflective of the Abject Body-the traumatized body-the Queer body. They expose distortion and fragmentation that compel the viewer to meet both discomfort and familiarity. Through use of washes and glaze, the textured surface reveals marks of erosion, scaring, discoloration, and tearing. The bodily forms are placed upon built settings that are rendered domestically familiar to reveal the origins of these physical disruptions.
In combination with the methods of drawing and the ramblings of prose and poem, there is an attempt to find a multi-expressive way of 'speaking'. Clay, pencil, paper, and a quiet whispering. All to understand the physical feeling of Body from the perspective of the Emotive-Self.
Through this voice, validation, and vulnerability, my work aims to acknowledge trauma and bring forth a grieving space that is sensitive and healing.
---
O' POST MIO
By
Francesca Leonardi

The place of Claudia, who at 16 months was sold by her mother, is a place that well represents the violence that she first suffered between those houses. Just like the maritime pine forest that was uprooted to raise illegal buildings in Parco Saraceno, located in Castel Volturno, not far from Naples.

When she was 14 years old Claudia was found by her grandmother in a family in Modena and soon ended up in a community for minors at risk. Years later, Claudia met the man who became the father of her daughters, a Camorra-like whole, today in prison. How much of the territory in which she was born has marked the life of this woman? Francesca Leonardi tried to answer this question with her research in the intimacy of a house that goes beyond the simple walls.

View More Episodes︎︎︎

The audio documentary derived from the project, produced by Rai Radio3, tells in the span of time of a turn of the hands of a clock, divided into 4 episodes of 15 minutes each, a work lasting 8 years.

The strong evocative power of words, which are implicitly associated with images that almost always do not reflect the mere reality of the facts, transport us in the suburbs of Naples and the life of Claudia herself.

A strong story, sometimes poignant and complex, reported here on our site is the first episode of this series. Find the rest of the story at the link above.